Hand-carved Valances by Laughing Sun
Frame your view to the great outdoors with a hand-carved window valance. Each valance is a unique
work of art custom carved using your design ideas or you may leave the creative workings to Dennie.
Types of wood Dennie has used in various carvings include oak, pine, redwood, cedar, zebra wood,
Philippine mahogany, Hawaiian koa, and South American paduka. Accents for your valance might
include, inlaid turquoise or gold, or stained glass. Custom sizes and shapes are available.
Feel free to call Dennie at (303) 670-1445 to explore any project you may have in mind.

Carved from pine, these 6 foot valances feature southwestern images highlighted with oil paints, along with stained glass inlays. Drape a piece of lace or silk through the openings along the bottom for an added dramatic effect. Each piece depicts themes specific to the room it is built for. A hand-rubbed tung oil finish is applied to preserve the vibrant colors and quality of the wood.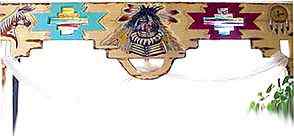 Indian Chief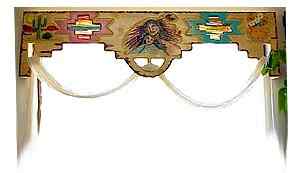 Indian Woman and Child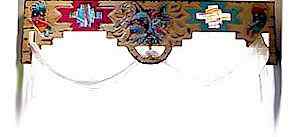 Wolf and Kokapelis
Home - Doors - Signs - Memorials - Window Valances - Other Creations - Pricing - About the Artist and the Carving Process
---
Please do not hesitate to call Dennie Ibbotson at
(303) 670-1445
to explore any project you may have in mind!
---

Dennie Ibbotson
P.O. Box 512
Evergreen, CO 80437 USA
Telephone (303) 670-1445